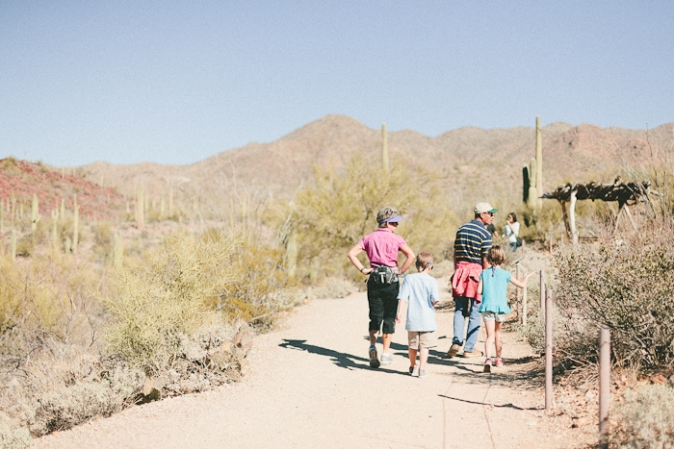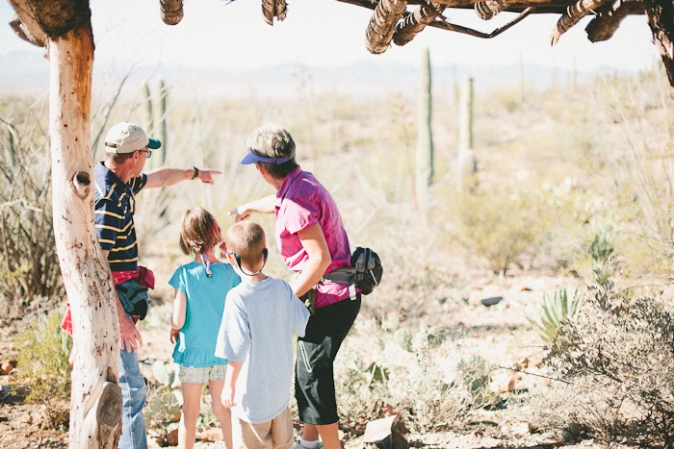 These photos are some I took during our visit to Tucson last month, where we spent a relaxing week with my Auntie T and Uncle Tim.  Oh, the weather was mostly glorious and sunny, we got to go outside and take walks and soak up the sun, the kids swam in the community pool almost every day, and we learned all about Arizona desert cacti and wildlife.  The kids and I enjoyed spending time together on evening walks before bed, there was a guest house for us, a cocktail hour every day and home-cooked meals that I didn't even have to make and that included tasty wine (I didn't even have to wash dishes afterward either).  I got to workout every day and toot around in the golf cart with my fun auntie, and the kids made some glass pieces in my aunt's glass studio.  With so many memories of spending a big part of my childhood at my aunt's house, it was so special for me to see my kids enjoying her and her home.
In the above photos, by the way, T&T took us to an outdoor desert museum, Tim took us geocaching, where we hiked to find a buried treasure, and the kids made glass art projects.  Also, Arizona is beautiful!!!  I didn't know much about it before, but fell in love with its mountains, rocks, and desert grasses and cacti.
And why were we in Tucson, you might be wondering?  I'm guessing those of you reading this already know our story, but after 7 months of living in Montana we finally left in search of sun, outdoors, friends, and "home" as we wait for Matt to finish out his last 2 months of deployment.  We travelled through Tucson on our way from Montana to Florida (7 full days of driving and 2.5 weeks of travel) and after an incredibly busy first week of unpacking and shopping, we are now settled into our new home in Jacksonville.
Life has been busy so far with getting our home set up, running errands, forming our new routine, meeting new neighbors and reconnecting with friends in Jax (and meeting other Navy wives with deployed hubbies, which I really appreciate), spending time at parks and the beach, and planning out our days.  I'm beat, actually, and probably ready to chill in the sun with my book and cocktail while my kids ride bikes with the neighbors in the cul-de-sac.  Did I mention the weather is warm and wonderful?   I'm feeling much better with this change and very excited to be able to count down the days till Matt returns to us.